Rachmaninoff


Tchaikovsky


Rimsky-Korsakov

Mussorgsky


Stravinsky


Scriabin


Glinka


Borodin


Prokofiev

Shostakovich
Russia
The first Russian composer who wrote in the spirit of Russian folk music was Glinka

. In his so-called "Russian" operas, as "Life for the Tsar" and "Roslan and Lyudmila", and also in his "Fantasia Kamrinskaya", he incorporated Russian elements and folk songs in an evident, deliberate manner. He is considered the father of national Russian music.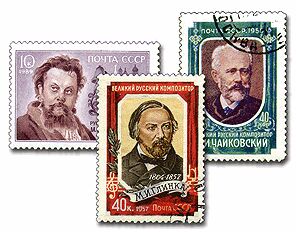 His successors were a group of five, called "the Mighty handful"

(Moguchia Kuchka), who all composed with popular Russian influences, among whom are the famous Mussorgski

(the opera

"Boris Gudonov"), Borodin

(the opera "Prince Igor" and the symphonic poem

"In the Steppes of Central Asia"

), and Rimsky-Korsakov

(the symphonic poem "Sheherazade"


). Balakirev, the leader of this group, integrated the folk elements in both symphonic music and piano repertory (his fantasy

"Islami", is influenced by the music of Asian and Muslim Russia, emphasizes this).
Even Tchaikovsky


, who was not included in the national school, wrote Russian music, yet it was integrated delicately and naturally in his Romantic

composition. Armenian Khachaturian

incorporated Armenian music in his symphonic writing, and deployed orchestral instruments which imitate popular instruments. The ballet music of "Spartacus" and "Sword Dance"

from the ballet "Gayane" are examples for the combination between Romantic symphonic composition and Armenian folk music.
Dances originated in this country:
Hopak, Gopak - a cheerful Russian folk dance in an even meter (2/4). Mussorgski combined it in the opera "Sorochintsy Fair".

Musical Centers

Russia on the WWW
| | | | | |
| --- | --- | --- | --- | --- |
| Sites | Audio | Video | Images | MIDI |

Anthem

Where

Dances

Notes

Internet

Projects

Dictionary

Finders