Xtend

Listen

Period

Country

Quotation

Projects

Dictionary

Finders
Born: 6 January 1872, Moscow, Russia
Died: 27 April 1915, Moscow, Russia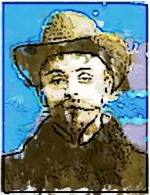 Scriabin, Alexander
His father destined a military career for him, and he attended a military academy, but he decided to be a composer and learned with Rachmaninoff

in the same conservatoire in Moscow

. At the beginning of his way, he was affected by Chopin

, whom he admired. At the time, he wrote many etudes

and nocturnes

, but later on he developed an innovative approach and foggy harmony based on the whole-tones scale

. He created strange, fascinating music and even ordered, especially for his "Poema Ecstasa", a unique instrument called the "lights piano", showing on a canvas the diverse colored sound in the music. To some extent he searched for what is now known as "multimedia".
His symphonic

works, such as the Third Symphony, are less often performed than the many piano

pieces he composed, among which are the 24 Preludes, Op. 11

and the last 5 Piano Sonatas, but he is considered among the important composers of the 20th century.
He died at 44 years old, full of unfulfilled plans.

Scriabin on the WWW
| | | | | |
| --- | --- | --- | --- | --- |
| Sites | Audio | Video | Images | MIDI |
Description

He played

He Lived in the


Romantic period

Russia


And now on the WWW



Home Page