Xtend

Listen

Jokes

Evolution

Animation

Internet

Projects

Dictionary

Home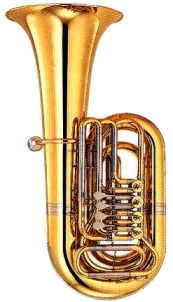 The Tuba and the Sousaphone
Tuba is the name of several instruments used for bass

parts in the brass section. The tubas rarely play a melodic

part. The player holds the tuba close to his body, with the funnel facing up. Its predecessors had been the serpent

.
Among the relatively well known tubas are the Euphonium (the tenor tuba used in the symphonic orchestra

), The Bombardon (the bass tuba), the bigger helicon

and sousaphone, surrounding the player's body as a big ring.
There is a great deal of confusion and difference in terminology among different nations as to the naming of the types of tuba, yet their role in the symphonic orchestra and military bands are similar. Wagner

was among the developers of this instrument and put it to use in his operas

(for example, "The Meistersinger of Nuerenberg").
Sousaphone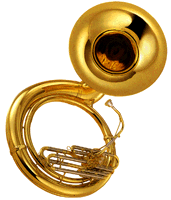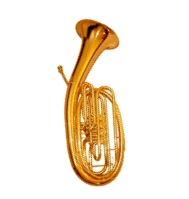 Wagner tuba


Composers

Beethoven