Xtend

Listen

Period

Country

Notes

Quotation

Projects

Dictionary

Finders
Born: 7 May 1840, Wotkinsk, Russia
Died: 6 November 1893, St. Peterburg, Russia

Tchaikovsky, Pyotr Ilyich
The composer who abandoned a legal career for the sake of music. He left law school and enlisted in the St. Peterburg

Conservatoire of Music. Later, he was invited to serve as a lecturer in the Moscow

Conservatory, and started composing music. He suffered many difficulties and a permanent depression

, and the audience was less than enthusiastic with his first works. He left for long journeys in Europe, journeys in the course of which he met Berlioz

, Liszt

, Brahms

and other Romantic

composers who profoundly affected his work. In contrast to his passion for the art of these composers, he totally rejected Wagner's

music.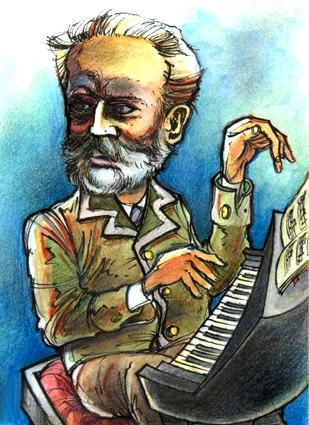 He wrote diverse sorts of music, and gradually won more and more publicity

. He also began conducting his own works. He composed many operas

, such as "Eugene Onegin", the "1812"

overture, and his all-time-famous ballets "The Sleeping Beauty", "Swan Lake"

and "The Nutcracker"



. But the peak of his glory was his Sixth Symphony "The Pathétique", the only piece that fully satisfied him, as he told his friend, the composer Glazunov

. His Piano Concerto No. 1 is very well known too.
Tchaikovsky embraced Russian folk music, but combined it with influences from the broad musical world of his era. His music excels in emotion and melody, and rich orchestration

.

Tchaikovsky on the WWW
| | | | | |
| --- | --- | --- | --- | --- |
| Sites | Audio | Video | Images | MIDI |
Description
He was

a lecturer
and civil servant
He Lived in the


Romantic period

Russia