Xtend

His Music

Period

Country

Quotation

Dictionary

Projects

Finders
Born: 6 June 1903, Tiflis, Armenia
Died: 1 May 1978, Moscow, Russia

Khachaturian, Aram Ilyich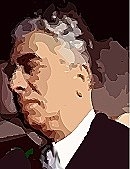 The Armenian composer whose music includes many oriental elements, from Armenian folk music and from some other nations of the Soviet Union: Ukraine, Turkemenistan and Uzbekistan. Like Kodaly

, Bartok

and other composers, Khachaturian tried to write universal music (common to all mankind), that is, at the same time, derived from the artist's folklore.
During the time of the communist regime, he was one of the most popular composers, and his "Song about Stalin" made him the government's favorite.
In the ballet "Gayaneh", which includes the "Saber Dance"

, he used regional Armenian thematic materials. He also integrated folk melodies in the ballet music "Spartacus", which became very popular in the 1970's, when the Phygia from it was been as the theme for the BBC TV's series "The Onedin Line".

Khachaturian on the WWW
| | | | | |
| --- | --- | --- | --- | --- |
| Sites | Audio | Video | Images | MIDI |
Description
He Was

He Lived in the

Twentieth Century

Armenia