Xtend

Listen

Period

Country

Quotation

Projects

Dictionary

Finders
Born: 1 April 1873, Onega, Russia
Died: 28 March 1943, Los Angeles, USA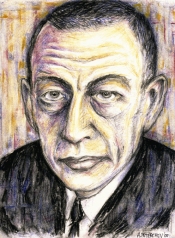 Rachmaninoff, Sergey
A great pianist

and one of Russia's

important composers. At an early age, when his rich father lost his fortune, Rachmaninoff was sent to learn with a private teacher, in whose house he met Tchaikovsky

, the composer who inspired him to write an opera sketch called "Aleko" as a graduation exercise. He also wrote the Piano Preludes Op. 3 (the most famous one is the Prelude in C# minor). After his first symphony

failed, he wrote the No. 2 Concerto for Piano



, that had tremendous success and is popular to this very day. The Symphony No. 2, Piano Concerto No. 3, and the rest of his symphonic music, placed him as a prominent composer, but the Communist Revolution of 1917 made him leave for the United States, where he became a distinguished and successful concert pianist.
In the 1930's he went back to composing, and his "Rhapsody on a theme by Paganini"


, like the Third Symphony, put him back in the center of the musical scene, till his death. In spite of the fact that he was a 20th century composer, his music was always characterized by a tendency to Classic

forms and loyalty to tonality

.


Rachmaninoff on the WWW
| | | | | |
| --- | --- | --- | --- | --- |
| Sites | Audio | Video | Images | MIDI |
Description

He played

He Was

He Lived in the

Twentieth Century

Russia