Xtend

Listen

Period

Country

Notes

Quotation

Projects

Dictionary

Finders
Born: 21 March 1839, Karevo, Russia
Died: 28 March 1881, St. Peterburg, Russia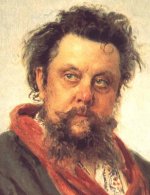 Mussorgsky, Modest
A descendant of an aristocrat family, who left a promising military career for the sake of music. For a living, he worked as a government clerk. A national composer who tended to seek his inspiration in Russian folk songs, he was a member of the "Mighty Handful"

, a group of composers who wrote Russian

national music (as part of the national music trend in the 19th century), grouped under the influence of Balakirev. Mussorgski studied the scales

and modes

of Russian folk songs and Russian Orthodox Church melodies, and made extensive use of them. He is rightfully considered among the most important and original artists of Russian national music.
His works, such as the opera

"Boris Gudonov", based on Pushkin's drama, were rearranged after his death by Rimsky-Korsakov

, but it is widely-accepted, that his style was ahead of his own era. Nowadays, his works are performed in original versions.
As a Romantic

composer, he wrote a lot of programme music

and symphonic poems

like "Night on the Bare Mountain", arranged by Rimsky-Korsakov, and his most famous piece "Pictures at an Exhibition"




written for the piano

but orchestrated

by Ravel

.
He was sickly and addicted to alcohol, and died at the age of 42, leaving many of his works uncompleted.

Mussorgsky on the WWW
| | | | | |
| --- | --- | --- | --- | --- |
| Sites | Audio | Video | Images | MIDI |
Description
He was a
civil servant

He played

He Lived in the


Romantic period

Russia