Xtend

Listen

Period

Country

Notes

Quotation

Projects

Dictionary

Finders

Born: 18 March 1844, Tikhvin, Russia
Died: 21 June 1908, Lyubensk, Russia
Rimsky-Korsakov, Nikolay Andreyevich
The man who was an officer in the Russian

fleet, wrote different works, among which a symphony

that indicated his amazing talent and wonderful capability for orchestration


(acquired, among other sources, from Berlioz's

book "The Theory of Orchestration"). After several successful performances of his pieces, he received a nomination as a composition professor in the St. Peterburg Conservatory

, and in order to do well as a teacher, he taught himself harmony and voice-leading. At the same time, he wrote pieces that were never published, and only his "Spanish Caprice" ("Capriccio espagnol"), which was broadly appreciated, marked his becoming as a meaningful composer. He became one of the Five composers, "the Mighty handful", the leading group of 19th century Russian nationalist composers.
"Scheherazade"


, that followed it, once again proved his ability in orchestration, which he saw as a central component in a work, as well as the creation and usage of exotic folk elements in his original music (Spanish

at first, and later Oriental). This symphonic suite

is based on the tales the princess Sheherazade (as she is played by a violin) told her master, the Caliph, in her effort to postpone the sentence of death he had declared on her.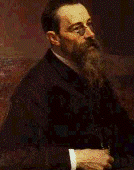 Wagner's

music had a vast influence on him, and he began writing many colorful operas

, such as "The Golden Cockerel", his last opera, prohibited by the Russian censor, on account of the understated mockery he made of the Tsar and nobility's regime.
Rimsky-Korsakov was very respected as a teacher, and among his pupils was the young Stravinsky

. He was also involved in the completion, orchestration and editing of various musical pieces, from the legacy of deceased Russian composers (such as Glinka

, Borodin

("Prince Igor") and Mussorgski

- "Boris Godunov"). As an expert in the subject, he also published an important textbook about the theory of orchestration.

Rimsky-Korsakov on the WWW
| | | | | |
| --- | --- | --- | --- | --- |
| Sites | Audio | Video | Images | MIDI |
Description
He was serving on the sea

and

a teacher
He Lived in the


Romantic period

Russia


And now on the WWW



Home Page