Composers


Haydn


Mozart

Beethoven


Schubert


Brahms


Mendelssohn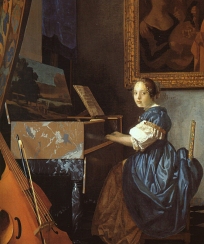 Sonata
Among the most important forms in instrumental music. A multi movement composition. Its name originates in the Italian word "sonare" (to sound), and it indicates its being different from the cantata

sung by a human voices - its being an instrumental form (played by instruments). The sonata turned from being a religious form of 4 movements contrasted in character in the 16th century, to a well-defined form in the classic era

and later, usually played by one instrument - the solo-sonata (for a harpsichord

, violin

etc.).
The first movement of the symphony

, designated for a grand orchestra, is written in the sonata form (also called Sonata-Allegro

), and so is the concerto

, designated for a solo instrument and an orchestra.
The father of the modern sonata is Carl Philipp Emanuel Bach

, son of the great J. S.Bach

, who gave it its typical structure, and especially its well-defined first movement - the sonata-allegro

. All great classical composers have written this way ever since, for different ensembles. Haydn

wrote many pieces in the sonata form, and he is considered as the father of classic symphony, and so was Mozart

. In the Romantic

age the prominent composers in this field were Schubert

, Brahms

and Mendelssohn

. Yet, and of even greater influence was Beethoven

, who added a forth movement, and made the sonata form his main means of expression. His famous sonatas are the piano sonatas (the "Pathetique"

, "Appassionata" and "Moonlight"


sonatas), the "Kreutzer" Sonata for Violin and Piano; and of course, all his symphonies incorporate sonata movements. In all of his sonata movements, he expressed drama in a musical way, articulated sensations in an unprecedented way, and introduced bold harmonies.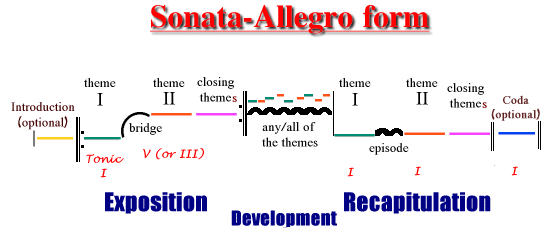 In the Romantic period, composers abandoned the strict formulas of sonata, and gave their sonatas their own interpretation and structure, different from the classic sonata; yet the sonata itself was still an important form in the 20th century

, fixed and uniform as before.
A form used for the first movements of sonatas, symphonies, concertos, string quartet and other pieces, consisting of three main sections

:
I. Exposition
II. Development
III. Recapitulation

First Movement from Beethoven's

Sonata No.8 in Cm, Op.13 'Pathetique'

Flute Sonata in F - Telemann

First Movement from Beethoven's 'Moonlight' Sonata

No.14 in C#m, Op.27 No.2
Xtend

Listen

Period

Scheme

Notes

Dictionary



Internet



Projects

Finders