Composers

Bach


Handel


Haydn


Mozart


Beethoven


Liszt


Brahms


Mendelssohn


Rachmaninov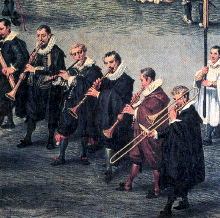 Concerto
A musical piece designated for a soloist or soloists and an orchestra. The concerto consists of three movements. The first is fast, and usually in the sonata form

. The second movement is slow and poetic, singing-like, and the third one is fast, again, often in the rondo-sonata

or sonata-variations. At the end of the first movement there is a cadenza

, where the soloist displays his virtuoso abilities and sometimes even improvises (without any pre-written notes).
In the past, that is in the Baroque

, the more common form of concerto was the concerto grosso

, in which a small group of instrumentalists played versus the entire orchestra ("Soli" versus "Ripieno"). Bach

wrote many Concerti Grossi

, among which is the Brandenburg Concerti


. Handel

also composed 12 serious, profound Concerti Grossi.
In the classical period the concerto becomes personal - The concerto solo. Composers place the single soloist to play against the orchestra. Haydn

wrote many concerti

, among which is the excellent Trumpet Concerto, yet Mozart

was the one who shaped the classic concerto


. He wrote about 50 concerti for different solo instruments, and the last ten Piano Concerti are particularly good. Piano Concerto no. 21



is mostly known for the slow movement used in the motion picture "Elvira Madigan". His Clarinet Concerto and Violin Concerto no. 3 are also considered among the best of his work.
The concerto suited well the Romantic

period, an era that favored the individual and his personal expression. As a person who represented the Romantic period in both art and life, Beethoven

composed special, profound concerti. His Piano Concerto no. 5 "The Emperor"

and Piano Concerto no. 3 are some of the best in the history of music. They include a first movement that is "heavier" than what was customary before. Beethoven's Violin Concerto

is also one of the summits of this genre, although it geniusly integrates the solo violinist in the orchestra, rather than demonstrates his capability.
Mendelssohn

wrote the E minor Violin Concerto



, of the favourites in orchestral repertory, and Liszt

wrote the spectacular Piano Concerto no. 1. In his Violin Concerto and diametrically opposed characterized Piano Concerti, Brahms

also represents the Romantic concerto at its finest

.

Examples of concerto parts
Concerto for Piccolo in C

by Vivaldi

Allegro aperto from Flute Concerto in D (K.314)

by Mozart

Piano Concerto No.2 in Cm, Op.18 (movement 2)

by Rachmaninov
Xtend

Listen

Period

Scheme

Notes

Dictionary

Internet



Projects

Finders