Composers


Bach


Telemann


Handel

Suite
A musical form that originated as a series of dance tunes conflicting in character, rhythm and tempo (speed). The suite was at its peak in the renainssance

and baroque

. It was born at the beginning of the 16th century, when the musical world shifted its attention from vocal

(sung) to instrumental

(played) music. Then, composers turned to folk dances

, drawing their inspiration from these dances. Thus the suite was crystallized as a combination of dances from different countries. The four original dances that crystalized into the suite of the late 17th century were the Allemande


(German

), Courante


(French

), Sarabande


(Spanish

) and Gigue


(English

). These have appeared in nearly every suite written ever since, yet unfixed dances were added between the third and the fourth (minuette


, burree


, gavotte


and other dances).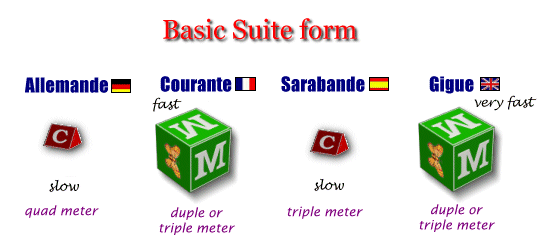 The important principles in the suite are the contrast in tempo between neighbouring movements (a slow dance will follow a quick one), one musical key for all movements, and many binary movements. Among the important suite writers, mainly for harpsichord

and violin

, is J. S. Bach



(his four Orchestral Suites are also well-known).
At the beginning of the classic era

, the suite cleared its place for the sonata

as the main form of composition.
In the Romantic period, composers revived the suite - this time as a collection of pieces of stage music played by a symphonic orchestra

. Thus, Grieg

created the orchestral suite "Peer-Gynt"


, Ravel

- "Sur le Tomb de Couperin" and Tchaikovsky

- "The Nutcracker"


.

The suite originated from folk dances
Listen to some dances from the Suite
| | | | |
| --- | --- | --- | --- |
| Allemande | Courante | Saraband | Gigue |
Xtend

Listen

Period

Scheme

Dictionary

Internet



Projects

Finders