Xtend

Listen

Period

Country

Notes

Quotation

Projects

Dictionary

Finders

Born: 7 May 1833, Hamburg, Germany
Died: 3 April 1897, Vienna, Austria
Brahms, Johannes
Born to a poor family in Hamburg, to a father musician and a seamstress mother, Brahms was showing signs of possessing an extraordinary talent. Brahms left school at the age of fifteen in order to earn some money. He studied music while supporting himself by playing piano

at bars and clubs.

After settling in Vienna

, he established a fine reputation, both as a conductor and as a composer. He was noticed and encouraged by Liszt

and Schumann

. Brahms was very much in love with the latter's wife, Clara Schumann

, who was an extremely gifted pianist herself and whose advice he always valued. After Robert Schumann's death, however, they decided not to spend their lives together. This fact had a significant effect on his works and he expressed his distress in the music he wrote at the time, including the first drafts for his First Symphony and the exquisite "German Requiem". That work established him as a well-known and famous composer all over Europe. At this time, having written only chamber works, concertos, piano music, and choral pieces, Brahms turned to writing the four symphonies and his Symphony no. 1 in C minor, Op. 68 was called "Beethoven's Tenth" by a famous conductor, as Brahms saw himself continuing the classical tradition

from the point to which Haydn

and Beethoven

had brought it

.

Brahms carried the standard of composition in the Classical

style, meticulous and economizing in orchestra

size, and opposed the tendency observed among Romantic

composers such as Liszt

and Wagner

toward personal, free composition in terms of form, like the symphonic poem

, and larger orchestras. His compositions combined the Classical forms with the early Romanticism.
Many of his later chamber works are more Romantic than ever, including the charming Quintet for Clarinet and Strings in B minor.
His influence on Mahler

and Schönberg

was profound.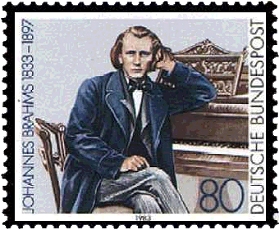 Brahms on the WWW
| | | | | |
| --- | --- | --- | --- | --- |
| Sites | Audio | Video | Images | MIDI |
Description
He played

He Was

He Lived in the


Romantic period

Germany