Xtend

Listen

Period

Country

Notes

Quotation

Projects

Dictionary

Finders
Born: 31 January 1797, Vienna, Austria
Died: 19 November 1828, Vienna, Austria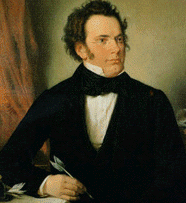 Schubert, Franz
A modest, shy composer who did not win, in his life, the glory and reputation he has today. Schubert, son of a poor family, was born

in Vienna

and lived his entire life in this city, when it was considered Europe's musical capital. His family taught him to play the piano, and soon enough he became the best among them

. He received a scholarship in the royal college, for his training as a choir singer

, and under Salieri's

(the same composer accused of having killed Mozart

) guidance he became a young composer.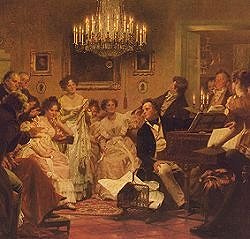 He wrote operas

, symphonies

and other orchestral music, but he is mostly known for his lieder - the art songs he wrote, in which he manifested genius and unique musical comprehension that uplifted the art song to a level of artistic creativeness parallel to that of the orchestral music of the Romantic

period. He lived with his poet friend, and was exposed to Vienna's nightlife, in parties in which he played many of his songs, to his friends' enjoyment. Later he began writing chamber music

and the "Die Forelle" string quintet



, a chamber piece named after a famous lied

where the melody of this lied is included - "The Trout"

("Die Forelle"), and the No. 14 String Quartet in D minor "Death and the Maiden", both peak of Romantic chamber music.
He composed the unfinished Symphony No. 8 ("the Unfinished")

and the Symphony No. 9 "The Grand" when he was already terribly sick. Like the gradually becoming deaf Beethoven

, and the blind Handel

, Schubert produces in his most difficult time his most divine pieces, among which are the lieder cycles "The Beautiful Miller" ("Die schöne Mülllerin") and "The Winter Journey"

("Winterreise"), as well as the Piano Sonatas in C minor and A Major. The last piece he ever wrote, the C Major String Quintet, is characterized by combining fear and terror with the optimism and love for life of the composer, who died without knowing how much the next generations would love his music


.
A year after being one of Beethoven's

coffin carriers, he was buried next to him, in the central cemetery in Vienna.




"Ave Maria" by Schubert


Schubert on the WWW
| | | | | |
| --- | --- | --- | --- | --- |
| Sites | Audio | Video | Images | MIDI |
Description
He Was

a schoolteacher
He Lived in the


Romantic period

Austria
Visit the