Composers


Monteverdi


Schütz


Bach


Haydn


Mozart

Beethoven


Berlioz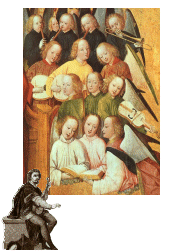 Cantata
A musical work including soloists, a choir and an orchestra. The cantata was originally a singing form only (as opposed to the sonata, that was meant for playing). In the 16th century, the cantata was formed as a piece for recitation of rhymed poetry or a dramatic rhyming movement, by a single singer accompanied by one instrument (cantata da-camera). Monteverdi

and Peri

composed such cantatas but those were considered inferior to the newly born opera

, which, unlike the cantata, included acting, costumes and stage design.
Carissimi

improved the cantata in the 17th century and introduced it into the church. Gradually, he added accompanying instruments, arias

(a solo song), and the string orchestra became the main accompaniment. Pergolesi

in Italy

, Couperin

in France

, Schütz

in Germany

, and many others - all wrote numerous cantatas and prepared the rich soil on which grew a genius - Johann Sebastian Bach

, who composed 300 Church Cantatas


and a few secular ones (such as the "Coffee Cantata"), so diverse and different from each other, that one cannot grasp the musical capacity manifested in each and every one. Choirs, soloists, duets

and arias are deployed, and the conclusion is always with a choral, where everybody present in church sings together. Instruments vary from one piece to another - Bach wrote for the players available to him at the time.
After Bach, many composers wrote cantatas of all kinds: Haydn

, Mozart

, Beethoven

, Shcubert

and Berlioz

, and until the 20th century

composers like Stravinsky

and Britten

. Yet the cantata's climax was in the baroque

.

Xtend

Listen

Period

Notes

Internet

Dictionary



Projects

Finders