Composers


Stravinsky


Richard Strauss


Bartok


Schoenberg


Shostakovich


Boulez


Stockhausen


Gershwin


Prokofiev

Britten
Breaking tonality and hail for dissonance. Running wild with rhythm and deconstruction of musical forms. nothing is forbidden and everybody can do it. Means of recording, sound production and possibilities are greater than ever, but audience are less enthusiastic than ever.

In the beginning of the 20th century, the tendency began in romanticism

- breaking old forms and conventions - intensified. Arnold Schönberg

created an atonal


(non-tonal, without a tonic) style of composition, in which he completely cancels the frame of conventional keys

. He creates the "twelve-tone"

system, in which the musician sets a series of notes and bases his work on this series. The different parts are independent of each other and there is no restriction on dissonance between voices. Stravinsky

, however, contributed novelties in fields of rhythm


and the idea of many tonics (polytonality

), and was considered an innovator in the area of structure

. Other trends were creating a "dissonant

counterpoint"

, a sort of baroque

polyphony

, yet totally permissive in writing rules.

In the second half of the century, there was a further general collapse of conventions. Numerous forms emerged, and every artist set himself his own style and artistic philosophy. Electronic music

and elctroacoustic

music, combining electronic equipment and synthesisers with acoustic instruments; minimalist music

; aleatory music

; and more.
Notation in the 20th century
Electronic music 'notation'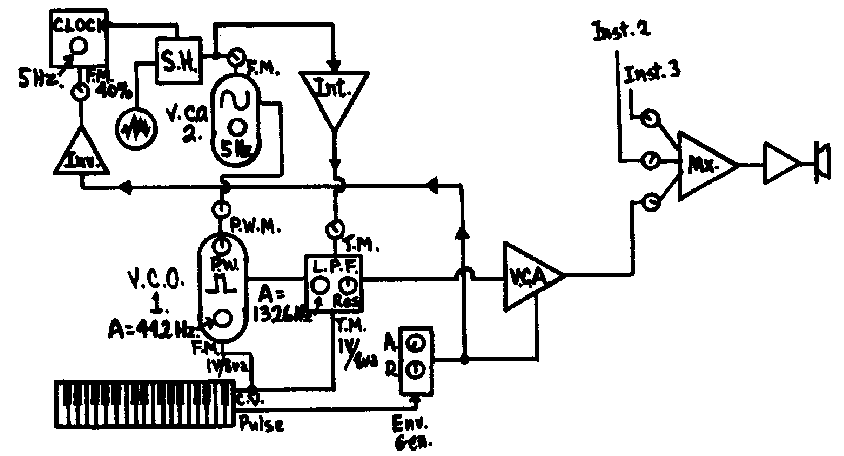 Examples
Typical forms and composition methods

Historic and Scientific events
1901
1903

1914
1915
1917
Russian Bolshevik Revolution
1918
1929
Great Depression in USA
1933
1935
Nuremberg Laws against German Jews
1939
1945
1953

1969
1977
The first personal computer - Apple II
1990
A concert dedicated to John Cage's "4'33"
20th Century music on the WWW
Arts

Politics
Science

Architecture
Notes