Composers


des Préz


Palestrina


Lassus

Luther
(c. 1390-1453)
(c. 1400-1474)
(c. 1430-1495)
(1452-1505)

Heinrich Issac
(c. 1450-1517)

Adrian Willart
(c. 1490-1562)

William Byrd
(1543-1623)
Thomas Morley
(1557-1602)
Orlando Gibbons
(1583-1625)

Notes
Man stands at the center of art, and it is the first time that music is written for the sake of, rather than, service of the Christian Church or social needs. Polyphony evolves, and the madrigal is born.

In secular music, the singing of "troubadours"

, wandering singers who sang daily songs, especially developed. In the 15th century, the Netherlands school contributed the style attributing all voices the same importance - polyphony


.
Throughout the 16th century, the Reformation and the Protestant church greatly affected composition, with far less ornaments in music, to match the austere mood of the early Protestant sacred works. Palestrina

creates harmony


as a substitute for polyphony

. He composes religious works of clarity and balance, in which the range of invention is wide and the words are distinct.

Throughout the Renaissance, the arts in general, including music, become independently important, rather than for their contribution to other topics. Beauty is a legitimate reason for producing art, not just the need to serve some master or God.
The important artistic principles in the Renaissance are proportion and symmetry.
Notation
Musical notes as they appear in the Renaissance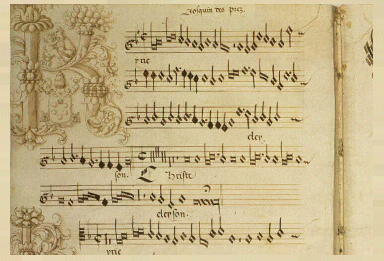 Examples

Madrigal "Oh beautiful woman"
Typical forms

Historic and Scientific events
1431
1455
1485
First parachute designed by Leonardo da Vinci
1492
1492
1497
Sea route around Africa to India discovered by Vasco da Gama
1503
1509
Henry VIII - King of England
1535
Reformation begins - King Henry divorced
1543
Copernicus explains that the Earth revolves around the sun
1590
Microscope invented
1593
Thermometer invented by Galileo

The Renaissance on the WWW
Arts

Politics
Science

Notes


Musical
Historic
Timeline