Composers


Handel


Gluck


Donizetti


Weber

Rossini


Mendelssohn


Stravinsky


Verdi


Wagner


Debussy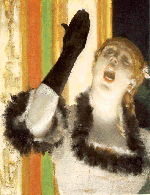 Aria
The aria is a song from an opera


or an oratorio

, however composers wrote concert arias solely for performance in concert halls, rather than in the frame of musical drama as the opera. In most arias, the opening theme returns before the end - an a-b-a form

.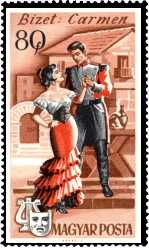 In contrast to recitative

, characterised by recitation contributing to the story line, the aria uses in the opera as the pure form of musical expression, and an instrument of articulating feelings. With Handel

, the area is vastly used, implementing the perception of human voice as a musical instrument, what brought him and other aria composers to write display arias, in which singers manifested their vocal ability and virtuosity

.
Gluck

, who opposed this phenomenon of making the aria a spectacle of the singer's capability, and his successors Donizetti

, Weber

and Rossini

took the aria back to its origins - a dramatic form, melodic yet technically restrained.
Verdi

, also among the greatest opera writers



, wrote wondrous arias, and his funeral, a 200,000 people audience repaid him by a spontaneous singing of one of his works.
Those who believed in drama underestimated the aria's independent importance - Wagner

absorbed the aria in the general musical frame (under the motto of "non-sop-music"), and Debussy

attached it to a recitative, in a joint "singing-speaking" style.


Xtend

Listen

Period

Scheme

Dictionary

Internet



Projects

Finders