Xtend

Listen

Period

Country

Quotation

Projects

Dictionary

Finders
Born: 11 December 1803, Côte St.-André, France
Died: 8 March 1869, Paris, France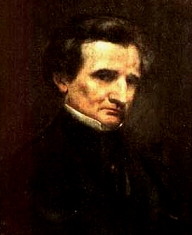 Berlioz, Hector
Berlioz was groomed, by his father, to study medicine but he choose to study music instead. He was ambitious, but the Paris

establishment rejected his appeal to get an academic office, obliging him to make a living as a critic. After a few years in Paris, Berlioz received the Prix de Rome

, which permitted some time in Rome

at government expense.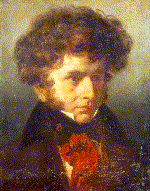 That same year, he published the Symphonie Fantastique


, a musical description of the reveries of a frustrated artist - one of the most influential programmatic works of the 19th century. With this revolutionary and original work, he managed to convince the actress Harriet Smithson

to marry him. The symphony is in five movements, instead of the classical four and uses the recurrent and short theme (idee fixe


), which symbolizes the "loved one".
Paganini

paid him to write the composition Harold in Italy

, a symphony

with viola

solo, but it was never performed by the great violinist.
His Requiem

is a good example of Berlioz's remarkable and extravagant orchestration, with more than 400 instruments and voices, brass bands and massed choirs. Although the Requiem was well received by the audience and commissioned by the French

government, it didn't compensate for the failures of his operas

.
Berlioz died after a 2 year illness, and after the deaths of his second wife and his son.

By his understanding of individual instruments, and, although he was not a good player on any instrument (He played Guitar

relatively good), Berlioz greatly increased the expressive capabilities of the orchestra. He was a main figure in the romantic

era and helped to shape the modern orchestra. Many composers, among them Liszt

, Mahler

, Saint-Saens

, Richard Strauss

, Gounod

, and Wagner

were influenced by his unorthodox musical structures and meters which helped free them from the restrictive classical

forms.

Berlioz on the WWW
| | | | | |
| --- | --- | --- | --- | --- |
| Sites | Audio | Video | Images | MIDI |
Description
He played

He Was

and
Music Critic
He Lived in the

Romantic period


In


France