Xtend

Listen

Period

Country

Notes

Quotation

Projects

Dictionary

Finders

Born: 2 March 1824, Litomysl, Czech Republic (Bohemia)
Died: 12 May 1884, Prague, Czech Republic (Bohemia)
Smetana, Bedrich
A prominent nationalist composer who dedicated his work to the music of Czech (Bohemia)

. With Dvorák

, his successor to the national music, he is considered the most important Bohemian composer.
Clara Schumann

, Robert Schumann's

wife, encouraged the young musician and Liszt

assisted in publishing his music and even helped him financially. He was affected by Liszt's ideas and wrote different symphonic poems

. After years of wandering also in Sweden, he returned to Prague

, where he wrote a few operas

, such as "The Bartered Bride", a popular opera and overture

to this very day.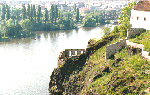 Like Beethoven

in his time, Smetana became deaf in later life, and yet wrote his great works, like the string quartet

"From My Life", "Czech Dances" and the symphonic collection "My Country" ("Ma vlast"), that includes the symphonic poem "Moldau"


("Vltava"), describing the waters of the famous river by this name, and the images seen as the river flows along the Czech landscape.
It might be interesting to know - the same Eastern European folk song that is the basis for the famous musical theme from the "Moldau"

was also the source of the State of Israel's national anthem's ("Ha-Tiqvah") melody.


Vltava (Moldau) by Czech PO & Kubelik
Smetana on the WWW
| | | | | |
| --- | --- | --- | --- | --- |
| Sites | Audio | Video | Images | MIDI |
Description
He played

He Was


He Lived in the


Romantic period

Czech