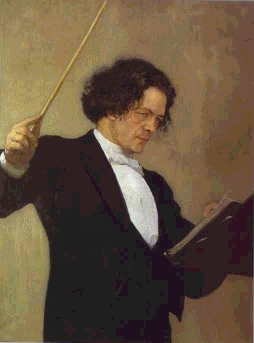 The conductor is the orchestra's "boss". He or she is the one required to prepare the orchestra

to perform a musical piece

, and he does so by guiding the players how to perform it, both at the rehearsals that take place before the concert and during the actual performance. The conductor needs to possess vast knowledge in fields of performance practice, orchestration

, the orchestral sound typical of different eras, music theory, the background to the writing of the piece, the manner in which the composer wishes to deliver his art to the audience and more. The conductor shows the rhythm, by which to play, with one hand, and uses the other one to indicate volume, entries and exits and other performance instructions.

The conductor is required for leadership and the ability to control the orchestra, which consists of many creative people, all brilliant in their own area. He is the one whose hand signals dictate the orchestra's performance, for had each and every player decided independently how to perform his or her part, the result would have been undefined and lacking in uniformity.
The great conductors perform many of the musical pieces by remembering the entire score


(the paper showing the notes of all instruments of the orchestra) by heart. Toscanini

, perhaps the most magnificent conductor in the history of music, possessed an astonishing memory, and conducted dozens of pieces every month, most of which, without having the score facing him.
Among the greatest conductors in history are Leonard Bernstein



, Mendelssohn

, Beethoven

, Mahler

, Haydn

and Lully

, who died as a result of the conducting pole hitting his foot.
Toscanini
One of the greatest conductors in history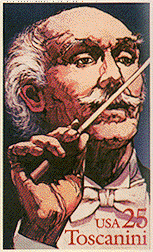 Arturo Toscanini (1867-1957)
Famous conductors on the web

Arturo Toscanini

Leonard Bernstein

Herbert von Karajan

Daniel Barenboim

Bruno Walter

Claudio Abbado

Kurt Masur

Sergiu Celibidache

John Barbirolli

Zubin Mehta

Otto Klemperer

Eugene Ormandy

Seiji Ozawa

André Previn