Xtend

Listen

Period

Country

Quotation

Projects

Dictionary

Finders
Born: 8 December 1865, Hämeenlinna, Finland
Died: 20 September 1957, Järvenpää, Finland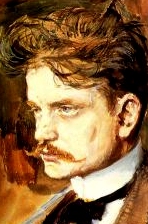 Sibelius, Jean
Like Stravinsky's

father, Sibelius's father also insisted that his son went to law school, yet he insisted on his own will to learn music. He became an excellent violinist

and began writing national music

, of unique Finnish influences, music that gave Finland

a meaningful place in European music.
Just like the Norwegian Grieg

, and other nationalist

composers, Sibelius was also inspired by his country's folk tales. He composed a series of national symphonic poems

that were based on ancient Finnish legends, especially the epic "Kalevala". Such were "The Swan of Tuonela", the bleak "Tapiola", and "Finlandia"


, that became a Finnish anthem.
Sibelius also composed orchestral music including his seven symphonies

, more than 100 songs, the dark "Valse Triste"

and the demanding Violin Concerto in D minor.
The Finnish government decided to meet his financial needs, in order to free all of his time for composing, and indeed, ever since then he dedicated most of his life to composing music that reflected the world of the Finnish people.
Sibelius wrote little in his last 30 years, feeling out of sympathy with the new musical trends of the 20th century

. His work is, however, considered among the most significant and original written in this era. He was simply a Romanticist

in a new, non-romantic period.

Sibelius on the WWW
| | | | | |
| --- | --- | --- | --- | --- |
| Sites | Audio | Video | Images | MIDI |
Description

He played

He Lived in the


Romantic period

Finland