Xtend

Listen

Jokes

Picture

Evolution

Notes

Dictionary

Internet

Projects

Home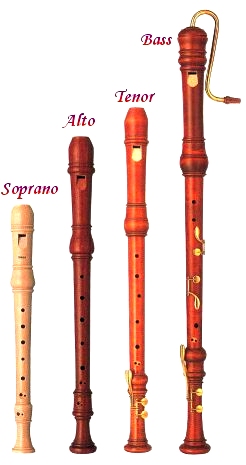 The recorder
The recorder is a hollow wooden pipe. These are particularly ancient instruments, found in the earliest civilizations. Today, we know it as a family of instruments in different sizes, including the soprano

, alto

, tenor

and bass

recorder. Professional recorder players also play the tiny sopranino

, and less known versions.
Until the baroque period

, the recorder was an orchestral instrument. It was very common in England

and because of its characteristic sound it was named "recorder", which means "squeak". Bach

and Handel

wrote many works for solo

recorder, and for different ensembles including the recorder.
Beginning in the Classic period

, the flute

replaced the recorder in the orchestra, and the recorder gradually became, unjustly, an instrument deployed for musical teaching purposes rather than artistic performance. The revival of performing ancient music on authentic instruments brought the recorder back to the center of the stage, and it now boasts many listeners.
Recorders Ensemble
Composers

Bach


Handel