Xtend

Listen

Period

Country

Notes

Quotation

Dictionary

Projects

Finders
Born: 25 September 1683, Dijon, France
Died: 12 September 1764, Paris, France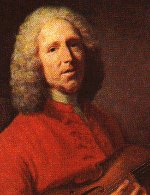 Rameau, Jean-Philippe
His father wanted him to become a lawyer, but he chose music, and when he was 18 he went away for his musical schooling in Milan

. He became a church organist

in Clermont cathedral, and began writing harpsichord

music


. He published a book titled "Traite de l'Harmonie" (Treatise on Harmony), that talks of the theory of harmony

, in which he orderly formulated his concept of harmony, saying harmony consists of a limited number of chords

, built of thirds, appearing in their different inversions and so on. His book provoked a controversy, but he continued a discourse with his opponents all his life, and publish additional books, in which he elaborated on his system.
At a later age, he started writing operas

, and was very successful

in Paris

, with "Castor and Polux" ("Castor et Polux") and "The Noble Hindus" ("Les Nobles Hindu"). He used daring harmonies, and in his life he was viewed as Lully's

successor, as the greatest of French

Opera writers, in particular after the death of Couperin

in 1733.


Rameau on the WWW
| | | | | |
| --- | --- | --- | --- | --- |
| Sites | Audio | Video | Images | MIDI |
Description
He played

and the

He Lived in the

Baroque

France