Composers


Chopin


Mendelssohn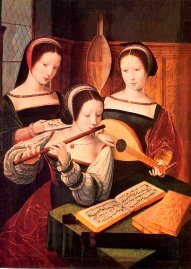 Ternary forms
Forms consisting of three parts: an opening section, including the main themes, part B develops those themes, and a closing A (or a modified A') section. This form of a reprising A section is a typical poetic form from ancient times

and 12th century minesienger

songs and the opera song - the aria da capo

.
In the sonata form

, in which symphonies

and sonatas are written, the minuet

movement is also written as a ternary form (minuet-trio-minuet).
Ternary structures are also found among 19th century piano

pieces, such as Mendelssohn's

"Songs Without Words" and the nocturnes

and waltzes

of Chopin


, and in the slow movements of many Classical sonatas, symphonies and concertos

.

Examples of Ternary form
| | |
| --- | --- |
| Etude in Gbm, Op.10 No.5 'Black Key' by Chopin | Sicilienne from 'Pelleas et Mélisande' by Fauré |
Xtend

Listen

Period

Scheme

Dictionary

Internet



Projects

Finders