Composers

(pope between 590 to 604)
Music was viewed as a didactic means of education, acquiring values and building a learner's character. In general, it served the needs of society.
In ancient times, civilised nations practiced music both in the course of religious rite and for daily purposes. The Greeks viewed music as a highly important educational means for moulding the free citizen's character and morality. The Romans developed the musical instruments and inherited the appreciation the Greeks had for music and its supposed influence on their way of life.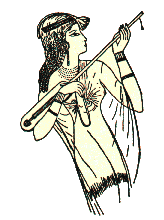 In the ancient world, music was "beneficial", serving other needs rather than holding its own "ecstatic" value. The "Functional music"

(Gebrauchmusik) of the 20th century

will try to revive this perception of music making.


Notation
Notes from that period


Examples


Parce Domine

Corde Natus
Forms

Historic and Scientific events
33
Jesus Christ executed
79
Volcanic eruption from Mt. Vesuvius covers Pompeii
190
First Abacus in China (precursor of the calculator)
313
Constantine accepts Christ
360
Huns invade Europe
610
Mohammed secretly begins preaching at Mecca
Musical instruments technology
500 BC
The "aulos", precursor to bagpipes invented in Greece

Ancient music on the WWW
Egyptian Art

Greek Art

Roman Art

Politics
Science



Architecture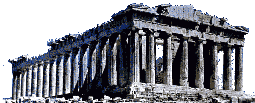 Notes