Composers


Bach


Handel


Schumann


Mendelssohn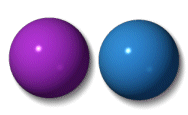 Binary forms
Forms consisting of two parts: an opening section and a closing one. The period

(musical thought) is divided into two short parts. The first one allegedly asks a question (a dominant

chord providing a sense of tension) and the second part gives an answer (a tonic

chord reliving the tension).
The binary form often uses two longer parts. Again, the first section opens in the Tonic key and generally modulates to a closely related key, while the second section returns to the original key.
Most baroque

suite

movements, by Handel

and Bach

, were written as binary forms, among which are the dances allemande

, sarabande


, gavotte

and bourree


. In later ages, simple binary structure continued to be used, especially for variations

. In the romantic

era, composers wrote in more sophistocated forms, but even Schumann

and Mendelssohn

wrote short binary pieces for piano

.

Example of binary form

Sarabande
Short binary musical sentence
Part 1

ending with tension

Part 2þ

reliving the tension
Xtend

Listen
<