Xtend

Listen

Period

Country

Notes

Quotation

Projects

Dictionary

Finders

Born: 1 March 1810, Zelazowa Wola, Poland
Died: 17 October 1849, Paris, France
Chopin, Frédéric
Chopin is among the greatest of piano composers. With his revolutionary piano technique

(as turning the hands outward and using a light, responsive touch) he is considered one of the greatest pianists in music history.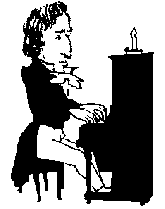 He was born near Warsaw, capital of Poland

, the son of a French immigrant and a Polish mother. As a child prodigy, who possessed an amazing capacity for improvisation

, he impressed all his listeners. At the age of 16, he began studying at a conservatoire, and when he was 21 he moved to Paris

, where he became friends with Liszt

, Rossini

and Berlioz

, and became a piano player for Parisian aristocracy. He excelled in composing piano miniatures


(tiny pieces), affected by events he had gone through, such as the fall of Warsaw by the Russians, that influenced his "Etude in C minor". He wrote almost no symphonic

music at all.
Chopin developed and created some new forms of piano music, including the Waltz



(The "Minute Waltz"

is probably the most famous), Ballades

, Preludes


, and Impromptus

. But he was also using folk Polish dances, like the Mazurka

(62 Mazurkas were written by him), and Polonaise

(like the well known Polonaise in Ab 'Heroic', Op.53

), for his piano compositions.

Many composers admired him, such as Mendelssohn

and Schumann

, who said "Hats off, gentleman, a genius!" about Chopin. His love, writer George Sand, who lived with him for a few years, allowed him to be engaged in composing his most beautiful works, and he wrote no more after their separation. Chopin died

of tuberculosis at 39, and was buried in Père Lachaise cemetery in Paris with a handful of Poland's earth.

Chopin on the WWW
| | | | | |
| --- | --- | --- | --- | --- |
| Sites | Audio | Video | Images | MIDI |
Description
He played

He Lived in the


Romantic period

Poland

and lived in



France


And now on the WWW



Home Page