Xtend

Listen

Period

Country

Quotation

Projects

Dictionary

Finders
Born: 5 March 1887, Rio de Janeiro, Brazil
Died: 17 November 1959, Rio de Janeiro

, Brazil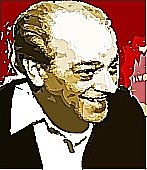 Villa-Lobos, Heitor
Villa-Lobos is the composer who gave Brazil

its place on the world map of music. His musical education was not academic. His father taught him to play the cello

and the guitar

virtuously. He studied Brazilian folk music and composed in its spirit, integrating popular traditional percussion

instruments in the orchestra. He was highly appreciated by pianist Arthur Rubinstein, who recommended him to come to Paris

, where composer Max Bruch

said of him "He did not come to learn from us - he came to show us what he did...".
He also studied Bach's

music, which in his opinion, is universal, representing what links cultures together, and dedicated to him his "Bachianas Brasileras"

- a cycle of pieces combining Bach with Brazilian folk elements.
Like Kodaly

in Hungary

, Villa-Lobos developed Brazilian music and music education in his country, and even founded Brazil's national academy of music.

Villa-Lobos on the WWW
| | | | | |
| --- | --- | --- | --- | --- |
| Sites | Audio | Video | Images | MIDI |
Description
He played

the cello
He Lived in the

Twentieth Century

Brazil
Visit the