Xtend

Listen

Jokes

Picture

Evolution

Notes

Quotation

Dictionary

Internet

Projects
Guitar
Relative


The Lute
| | |
| --- | --- |
| Classical Guitar | Electric Guitar |
The Guitar
The guitar is a quiet, intimate instrument that is rarely a participant in the symphonic orchestra and chamber ensembles, but particularly loved in folk

and popular music

. In the last centuries, a vast repertory of classical

works has been written for guitar, and guitar arrangements of pieces for other instruments.
Paganini

was a well-known guitar player and wrote pieces such as the 6 violin and guitar sonatas. Works originally written for the lute, the instrument that preceded the guitar (and whose origins are the Arab Oud

) were arranged for guitar, among them many pieces by Bach

. Rodrigo

wrote the "Concierto de Aranjuez"

, one of the most famous guitar works, and Turina

the "Sevilliana".
In Spanish

folk music, the guitar became the most important instrument by far, and the vital Flamenco

style is based on its sounds. Spanish composer Fernando Sor

dedicated most of his work to this instrument.
Jazz

, Blues

, Pop and Rock & Roll

music make a vast use of different kinds of guitars (among these, the electric guitar

, the bass guitar

and the acoustic guitar

with its metal strings). Rock players like Jimmy Hendrix and Eric Clapton became living legends, and developed playing techniques and expression.
Masters of the Classical Guitar
Chitarrone - a bass instrument from

the middle ages - a relative to the Guitar and Oud. Usually had six to eight strings. It was developed in Rome about 1600. It was usually about 6 feet.

Theorboe, theorbe, theorboe, tiorba

Large baroque lute. Had an extra set of bass strings plucked as open strings, which made it more suitable than the lute for playing baroque music. Was popular from the late 16th century until the end of the 18th century.

Bass Guitar

Jaco Pastorius (with Weather Report) - Portrait Of Tracy
Composers


Berlioz


Rodrigo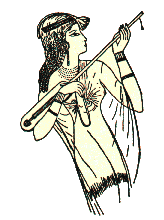 Ancient Egyptian Lute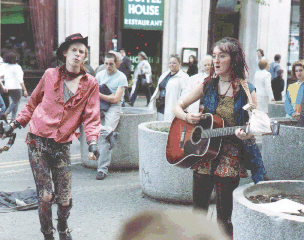 Street Musicians
Guitarists on the net