Xtend

Listen

Period

Country

Quotation

Dictionary

Projects

Finders
Born: 9 October 1813, Roncole, Italy
Died: 27 January 1901, Milano, Italy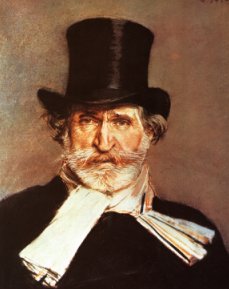 Verdi, Giuseppe
Verdi was born in the Italian village of Le Roncole

near Busseto

. Being a son of a poor family who exhibited a musical talent, Verdi's father bought him a cheap spinet

, so he could learn to play the organ

. And indeed he kept learning, with much effort, and became Italy's most predominant opera

composer. Unlike Rossini

, who filled his operas with extravagant arias

, Verdi considered the role of an opera singer as dramatic no less than musical. Unlike Wagner

, Verdi never put his own views in his operas, however, many people perceived the will for freedom and justice in his work as a defiance to Austrian

occupation in Italy

.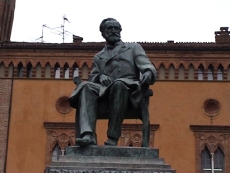 "Nabucco" - the opera first performed soon after Verdi lost his two children and wife, was a big success and helped him through this crisis. Other operas he composed, "Rigoletto"

, "La Traviatta"

, "The Force of Destiny" ("La Forza del Destino") and "Aida"



- ordered for the initiation of the Suez Canal in Egypt - are among the best-loved pieces in opera repertory.
The Requiem

he wrote for the memory of his friend, the poet Manzoni, is considered the height of his religious work, and the opera "Othello" is one of the best he composed during his last days.



Verdi on the WWW
| | | | | |
| --- | --- | --- | --- | --- |
| Sites | Audio | Video | Images | MIDI |
Description
He was
a composer most of the time
He Lived in the


Romantic period

Italy