Xtend

Listen

Period

Country

Quotation

Dictionary

Projects

Finders
Born: 16 December 1882, Kecskemét, Hungary
Died: 6 March 1967, Budapest, Hungary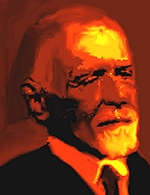 Kodály, Zoltán
Hungarian

composer, Kodály taught himself to play different instruments, and only later began studying music in a more orderly way. He became Bartok's

friend, and together they studied and recorded Hungarian and neighbouring regions' folk music. They traveled from village to village, notating folk songs and dances. Eventually, they published a survey and a collection of all the material they had gathered. Kodály wrote music that was influenced by Debussy

and Brahms

, but also by the folk materials he researched.
Among his important pieces, the "Hungarian Psalm" ("Psalmus Hungaricus"), written for the celebration of the cities Buda and Pest's unification (together named... Budapest). The opera "Háry János"


, and the famous suite based on the opera, published later and made him more famous.
In addition to the research of folk music, Kodály was also considered the greatest of Hungary's musical educators. He developed a teaching methodology based on singing and the development of musicality by means of the human voice. It was a substitute to prior techniques, that based the teaching process mostly on playing various instruments, like Carl Orff's

technique. The "Kodály's system" had a profound effect and became the most successful music educational method in the western world; millions of children learn music by his system.

Kodály on the WWW
| | | | | |
| --- | --- | --- | --- | --- |
| Sites | Audio | Video | Images | MIDI |
Description
He Was

A teacher and music educational expert
He Lived in the

Twentieth Century


Hungary
Visit the