Xtend

Listen

Period

Country

Notes

Quotation

Dictionary

Projects

Finders
Born: 29 February 1792, Pesaro, Italy
Died: 13 November 1868, Passy, France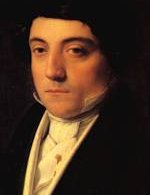 Rossini, Gioachino Antonio
As a son of a trumpet

player and an opera singer, Rossini was young when he became a choir singer

and an opera

pianist. He made his living as a talented and famous opera composer, and his "The Italian Girl in Algiers" ("L'Italiana in Algeri") and "Tancredi", two fascinating operas, were extremely successful, and helped him get the office of managing the Opera of Naples.
There, he wrote the "The Barber of Seville"

("Il Barbiere di Siviglia"), which, although it failed on opening night, later became one of the highlights of world opera; it was in this opera where he created the comic "song chatting" formula of the "opera buffa"

, in which the singer sings his words very quickly. Beethoven

, whom Rossini met in his triumphant visit to Vienna

, admired this opera. Many identified Mozart's

influence in this amusing, vibrant music, yet he confessed to Wagner

that "the angel of music is Mozart, and whoever touches him is a blasphemer".
In his last pieces, Rossini turned to more serious opera style, as he did in "William Tell"


("Guillaume Tell"), based on the play by Schiller and telling the story of the known Swiss hero.

At 37, he refused to write operas, and till the end of his life, he lived in Paris

and devoted himself to preparing gourmet food. He composed some music as well, but did not concentrate on it as before, and as we said, turned his back on opera.
In nowadays concert halls, apart from his popular operas, we can hear the overtures

to many of these operas, among which are "The Thieving Magpie" ("La Gazza ladra"), and the "William Tell"

overtures.
He was buried in "Pere La-Cheze" cemetery in Paris, where Chopin

and Bizet

also found their final rest.



Rossini on the WWW
| | | | | |
| --- | --- | --- | --- | --- |
| Sites | Audio | Video | Images | MIDI |
Description
He was an opera manager
and a cook
He Lived in the


Romantic period

Italy