Xtend

Listen

Jokes

Picture

Evolution

Notes

Dictionary

Internet

Projects
---
Relatives


Harpsichord


Synthesizer
The Organ
Although it is mentioned in the bible, the modern organ is not the same instrument as the biblical instrument, but an ancient kind of Panpipes

. It is the biggest instrument, and the most complicated one in terms of sound production

. The organist plays it by beating the keyboards; yet the organ is a wind instrument, for air passes through its many pipes thus producing sounds. The longer the pipe - the lower the sound pitch

. Each set of pipes (tubes) is built differently, and so produces a different kind of sound (clarinet

-like sounds, trumpet

-like sounds etc.) and is called a register. Special mechanisms assist the player to shift registers and diversify his playing with different sorts of sounds.
The air pushed into the pipes is now electrically generated, but in the past humans used to operate a bellows to create the stream of air required to make the organ sounds. Organs were commonplace mainly in large churches (cathedrals for example

), since the price of building an organ was extremely high, and it later required regular maintenance.
Throughout history, there were portable organs (the portative organ

) and fixed church organs (the "positive"

). In the 20th century, the electric organ


was born, and became very popular in pop music

.
Among the famous works for organ - the D minor Toccata and Fugue


by Bach

, who was one of the best organists of his time, and wrote hundreds of pieces for this instrument; the work of Handel

, with his organ concerti; the organ sonatas by Mendelssohn

; and the fantasia Liszt

wrote on the letters of Bach's name (translated into the notes B-A-C-H).
---
There were two Kinds of Historical Organs:
| | |
| --- | --- |
| Stood in front of player | Helded in player's hands |
---

There are modern kinds of Organs today: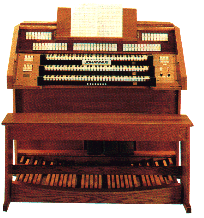 Compact Electric Organ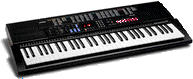 ---
Composers

Bach


Handel


Mendelssohn


Liszt
---
History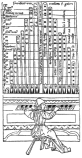 "The well designed organ"