Soundtracks:
Jingle All the Way
Fantasia




The Nutcracker ballet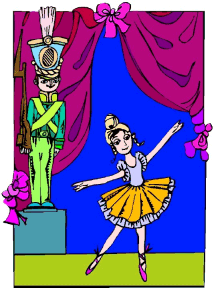 The ballet "The Nutcracker", ordered by the Royal Opera of Saint Petersburg is based on a fairy-tale about a nutcracker given as a gift to child, on Christmas Eve. This suite consists of eight main scenes from the famous story.
At night, the little girl comes to see the toys she has been given, and falls asleep among them. A war breaks out between the mice and the toy soldiers, who make the nutcracker their leader. As a decision is near, seemingly to the mice's favor, the little girl helps the soldiers by throwing a shoe at the leader mouse's head. The mice flee everywhere, and the nutcracker turns into a handsome prince. Later, a grand celebration takes place in the king's palace, in the girl's honor, and in fact most of the suite's dances are part of this feast.
It is amazing that this optimistic, naive music was composed at the same time as Tchaikovsky's "the Pathétique" Symphony, that tragic piece of a musician with a dark secret, one that was considered a crime in those days. Tchaikovsky's ability to write, simultaneously, two separate pieces, so contrary in atmosphere and content, and put all of his skill and soul into both, is particularly remarkable.
The suite's movements are:
| | |
| --- | --- |
| Overture | Reminds a music box tune |
| March | A dialog between the woodwinds and the strings |
| | Where, for the first time, the celesta appeared in the orchestra |
| Trepak | A Cossack dance |
| | Of Oriental character and style |
| Chinese dance | The dancers present the tea before its drinking |
| Dance of the Reed Flutes | Three flutes accompanied by the strings, in pizzicato |
| | The famous captivating part |