Xtend

Listen

Period

Country

Quotation

Dictionary

Projects

Finders
Born: 23 December 1858, Lucca, Italy
Died: 29 November 1924, Brussel, Belgium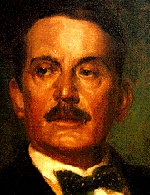 Puccini, Giacomo
Among the greatest of Italian

opera writers. Puccini was born in Lucca

, son of a musical family who continued, in spite of financial difficulties, to learn music and served as an organist

in a local church. Having seen Verdi's

"Aida"

, he decided to become an opera

writer. After his first few operas that were less than successful, "La Bohème" placed him among the predominant composers. "Tosca"

perpetuated his status and fame, but "Madam Butterfly"


suffered the audience's contempt. Only after shortening it, did it become popular and today it's one of the most beloved operas in the world.
Puccini's music shows a strong gift for melody,dramatic effect and exotic plots. He was one of the opera composers, who wrote about daily-life topics, a trend called "opera verismo"

, and like Bizet

, Leoncavallo

and Mascagni

, he went against the prevailing contemporary tendency of librettos about legendary, mythical and imaginary themes. Puccini was not afraid to confront the church (in "Tosca"

) or western colonialism (as he did in "Madam Butterfly"), and his operas reflect a fascinating social point of view. He did not live to finish his last opera, "Turandot", and it was completed after his death.
Two years after his death, his remains were interrned at his house at Torre del Lago which, after his wife's death in 1930, was turned into a museum

.


Puccini on the WWW
| | | | | |
| --- | --- | --- | --- | --- |
| Sites | Audio | Video | Images | MIDI |
Description
He played

and

He Lived in the


Romantic period

Italy