Composers


Schubert


Schumann


Brahms


Mendelssohn


Mahler
Lied
The German

lied (song), which existed in earlier periods, peaked during the romantic period, especially in the work of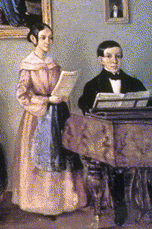 Schubert

, who wrote over 600 lieder (plural for lied), and placed, for the first time in history, the secular song at the same level as the most important forms of musical expression. In the romantic period

, lieder became a widely accepted form, when the piano

would usually accompany the singer, and in fact was its equal in artistic part. "The Trout"



("Die Forelle"), one of Schubert's best loved lieder, became one of the popular classic songs, as was the string quintet in which he combined its tune, called "Die Forelle Quintet".
In addition to Schubert's known lied cycles (collections), among which are "The Winter Journey"

("Winterreise") and "The Beautiful Miller" ("Die schöne Mülllerin"), Mendelssohn

, Schumann


, Brahms

and many other wrote lieder too, and Mahler

contributed us his "Elegies on Children's Death" ("Kindertotenlieder") and "Songs of a Wandering Apprentice" ("Lieder eines fahrende Gesellen") cycles. Another important artist was Hugo Wolf

, who developed this genre after Shcubert's demise.

Xtend

Listen

Period

Dictionary

Internet



Projects

Finders