Composers


Handel


Haydn


Rossini


Mendelssohn


Stravinsky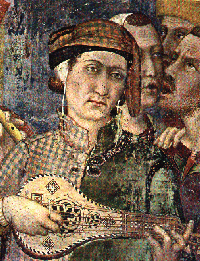 Oratorio
A musical piece based on a religious story and deploying orchestra, choir and soloist singing. The oratorio resembles the opera

in its development and musical characteristics, only it is not performed in the theatre with stage design and costumes, but in the concert hall.
Unlike the opera, which presents human figures that are not religious, the oratorio is based on religious stories, biblical stories - from the Old and New Testament.
The development of opera and oratorio started approximately at the same time, in the 16th century, when the church decided to attract people's attention to religion through composition and the staging of liturgical stories. Italian

Carissimi

, a 17th century composer, cancelled decor, costumes and theatrical production as a whole, in his oratorios ("Jephte" is the best-known among them) and replaced it with a narrator, telling the plot in "dry" recitative

(recitativo seco).

Indeed, Haydn

also wrote oratorios ("The Creation", and "The Seasons"), as did Rossini

("Moses in Egypt"), yet the greatest of oratorio composers was Handel

, who brought this genre to its peak, in a series of biblically-inspired epics. In oratorios such as "Judas Maccabaeus", "Joseph", "Samson", and especially "Messiah"


, these constituted the height of oratorio, Handel uses all the baroque

composition techniques and forms, and places the choir in the center of the piece.
Xtend

Listen

Period

Notes

Dictionary

Internet



Projects

Finders