Xtend

Listen

Period

Country

Notes

Quotation

Projects

Dictionary

Finders

Born: 22 August 1862, St.-Germain-en-Laye, France
Died: 25 March 1918, Paris, France
Debussy, Claude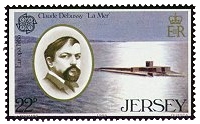 This talented composer was a big fan of Wagner

, and wrote musical critique for Parisian

newspapers. His friendship with Erik Satie

lead him to create impressionism

, that set forth the path to make a break with German Romanticism

. His music illustration of a poem by Mallarmé, "Prelude to the Afternoon of a Faun"


("Prélude à l'aprèsmidi d'un faune") was accepted with both admiration and amazement, thanks to the new sound and fascinating harmonies

he introduced into his music, based on the whole-tone scale

, evoking oriental music

. In painting, impressionism tried to describe in colors and games of light and shade, atmosphere, rather than to be specific about details. Debussy, as the first impressionist in music, attempted to replace impressionist's paints with musical colors

, making use of special scales he developed - such as the whole-tone scale, original methods of orchestration and innovative playing techniques. He was highly influenced by the music of the orient

and the art of the far east.

His effect on 20th century composers is vast, and he is recognized as a revolutionary in both his symphonc music, like the "The Sea" ("La Mer") and the single opera he was not able to complete, "Pelléas et Mélisande".

Debussy on the WWW
| | | | | |
| --- | --- | --- | --- | --- |
| Sites | Audio | Video | Images | MIDI |
Description
He Was a
Music Critic

He Lived in the


Romantic
Impressionism


In

France