Xtend

Listen

Period

Country

Notes

Quotation

Projects

Dictionary

Finders
Born: 9 October 1835, Paris, France
Died: 16 December 1921, Algiers, Algeria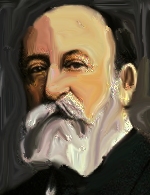 Saint-Saëns, Camille
One of the most interesting and fruitful composers French

composers, Saint-Saëns was also a known pianist

and organist

. Saint-Saëns learned to play the organ from Gounod

, and wrote his first symphony

when he was 16 years old. He was, for nearly twenty years, organist at the Madeleine in Paris

and one of the greatest improvisers and a virtuoso

player. His acquaintance with Liszt

helped promote his career and Saint-Saëns composed symphonic poems

as well as the Piano Concerti no. 2 in G minor, and No. 4 in C minor.
Saint-Saëns was involved in composing in every existent form, ensemble and need, from symphonies

(such as his Symphony No. 3, "Organ"), chamber music

, piano music, to concertos - Violin Concertos and the Concerto for Cello No. 1. His output was amazing, and he even wrote essays on philosophy and literature. He defended Romantic music, however, and searched for a unique expression for French music, and founded "The National Music Association".
He wrote quite a lot of programme music

, including the "Macabre Dance"

("Danse macabre"), and the better-known "The Carnival of the Animals"




("Le carnaval des animaux"), in which he described different animals by sounds (he forbade the piece's performance in his life, and indeed it was only played after his death).
The opera

"Samson and Delilah" ("Samson et Dalila") was his only successful opera, and it is considered one of the important works in opera history.


Bizet on the WWW
| | | | | |
| --- | --- | --- | --- | --- |
| Sites | Audio | Video | Images | MIDI |
Description
He was a writer

He played

He Lived in the


Romantic period

France
Visit the