Xtend

Listen

Jokes

Picture

Evolution

Animation

Internet

Dictionary

Projects

The Trumpet
Among the ancient instruments mentioned as early as in the Old Testament. In ancient times, they were believed to have magical powers: sorcerers would peak into them, and their voice would be concealed and sound out as the voice of the gods. Armies sounded the trumpet when going to war, and wrapped it in a red cloth (a custom symbolically maintained by military bands to this very day). In ceremonies and celebrations, trumpet blasts are still commonplace, in different versions.
Unlike the nowadays trumpet, twisted and having valves, the ancient trumpet was straight, and produced different sound pitches was done solely by altering the player's lips positions. Until Beethoven's

time, trumpets had a rather limited role in symphonic

music. Since they had only one key, they could not play chromatic

parts. Ever since the valve system was invented, the trumpet gained diverse possibilities of performance. Bach

included in his Brandenburg Concerto no. 2

, a virtuoso solo section for the trumpet, and Purcell

wrote a trumpet sonata. Vivaldi

composed a concerto for two trumpets, and Haydn's

trumpet concerto is also quite known. But the most famous trumpet piece is Verdi's

triumph march from the opera "Aida"


.
In addition to classical music, the trumpet is among the most common of instruments in marching bands

, brass bands

and Jazz

music.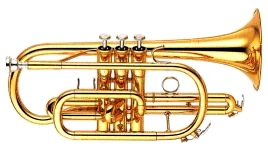 Cornet
The Cornet
A valved brass instrument which first appeared in early 19th century Paris

. Its tone is softer and less brilliant than the trumpet's. Composers like Berlioz

in the Symphonie Fantastique

, Elgar

and Stravinsky

all included the cornet in their orchestrations

. The cornet is now mainly used in brass and military bands and is seldom found in the classical or dance bands. Jazz

legendary musician and composer Louis Armstrong

played the cornet and demonstrated the possibilities of the instrument in this style of music.

Middle ages trumpets
Composers


Vivaldi


Haydn


Purcell


Verdi