Xtend

Listen

Period

Country

Quotation

Dictionary

Projects

Finders
Born: 28 November 1632, Florence, Italy
Died: 22 March 1687, Paris, France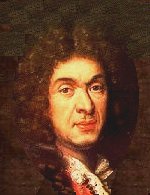 Lully, Jean-Baptiste
Italian

born composer who settled in France

and gave French opera its character. To a great extent, he learned to play by himself, and played in street bands. A French nobleman who saw him in the street, took him to France, where he rose from kitchen servant to be the king's musician and Louis XIV's guide for music and dancing. He became the court artist and began writing an opera

in a French style, that was different from the Italian opera in the variety of instruments, the role given to woodwinds

etc. Lully also demanded that players perform precisely as notated, with no improvisation

, additions and ornaments

that were allowed at the time.
He managed to get the franchise for running the opera, and it became a profitable enterprise open to the public, instead of nobility only. He composed music for Molière's plays, for the ballet and many operas, among which "Armide" is the most important one.
Lully died from a "conducting accident", when he drove the pole, it was customary to knock on the floor in order to direct players to the rhythm, on his own foot; the resulting infection causing his death.


Lully on the WWW
| | | | | |
| --- | --- | --- | --- | --- |
| Sites | Audio | Video | Images | MIDI |
Description
He played

He Lived in the

baroque

Italy