Composers


Haydn


Mozart

Bach


Beethoven


Brahms


Elgar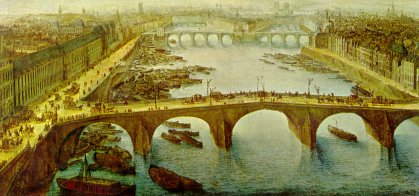 Theme and Variations
A piece based on a multi-recurring theme - each time in a different modification (variation), such as a change of key

, rhythm

, harmony

, melodic ornamentation

etc. In each variation, at least one of the original tunes' elements needs to be preserved in order to keep the identification vs. the theme possible.
Many composers wrote variations on themes by other composers, among whom are Haydn

, Mozart

, Rachmaninoff


and Beethoven

(the Diabelli Variations) and Brahms


(Variations on a Theme by Paganini). Bach

wrote his "Goldberg Variations"


for his harpsichord

player apprentice. Also famous are Elgar's

"Enigma Variations"


which is based on a theme whose origin is anonymous. The variations are not so much a musical form, but rather a technique of treating a musical theme.
The Chaconne and the Passacaglia are special kinds of variations on a bass theme:
Chaconne
A slow Spanish dance in 3/4 with the second beat accent like sarabande. The theme is in the bass, played with the full harmony over and over (ostinato), and above it grows the melody. It was introduced into the suite in the 17th century. A famous piece in this genre is J.S. Bach's

Chaconne

in the D Minor Violin Suite. The chaconne is similar to the Passacaglia.


Scheme

Passacaglia
A triple meter dance identical to the chaconne. Its origins are in Spain

. Based on a set of variations

based on a repeating bass phrase of 4-8 measures. A famous passacaglia is the J.S. Bach's

Organ Passacaglia

.
Examples of themes and variations


Caprice No.24 by Paganini
| | | |
| --- | --- | --- |
| Passacaglia in Cm by J.S. Bach | Chaconne from Partita No.2 in Dm by J. S. Bach | Canon in D by Johann Pachelbel |
Xtend

Listen

Period

Scheme

Notes

Dictionary

Internet



Projects

Finders