Xtend

Listen

Jokes

Picture

Evolution

Animation

Internet

Projects

Dictionary

Home
The French Horn
The hunting horn, that joined the orchestra in the 18th century, was common in French orchestras, hence its name. Bach

included two horns in his Brandenburg Concerti

(Brandenburg Concerto no. 1

is an example). Since the time of Beethoven

(the Scherzo

theme in Symphony no. 3 in E-flat Major, "Eroica") four French horn players participate in the orchestra.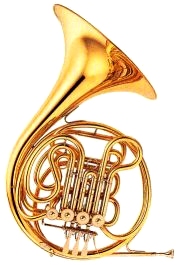 As the trumpet was, the French horn used to have no valves and curves (its form was arch-like). Handel

introduced it into orchestral music in his "Water Music"

. From the late 18th century on, horn players insert their hand into the instrument's bell, in order to soften and muffle its sounds. Haydn

wrote the horn concerto and Mozart

gave the world five concerti for the horn

, among which the best known is the no. 4 concerto in Eb, K. 447.

Composers

Beethoven