Xtend

Listen

Period

Country

Quotation

Projects

Dictionary

Finders
Born: 16 November 1895, Hanau, Germany
Died: 28 December 1963, Frankfurt, Germany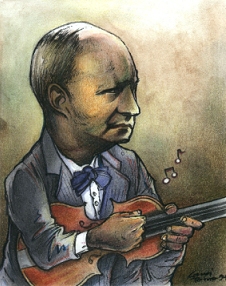 Hindemith, Paul
Among the German composers of the greatest influence in the 20th century. His orderly, almost strict style, is merged with human warmth and the energy of an enthusiastic artist. During the years 1927-1933 he was a teacher in Berlin, and together with Kurt Weill

, Hindemith represented the call for a functional modern repertoire for everyday life - "Gebrauchsmusik" - "utility music"

, music whose purpose is to serve the masses and establish closer contact between a composer and the public, rather than be detached from them, as Wagner

and his 20th century successors were.
He immortalized the dilemma of an artist standing against political tyranny in "Mathis the Painter"

("Mathis der Maler"). As he opposed Hitler, he left Nazi Germany

to the United States

. Being also a scholar, he developed his own harmonic Neo-Classical approach, contrapuntal system, and he composed "Ludus Tonalis for Piano".
After the war, Hindemith settled in Zurich in Switzerland, and died in Frankfurt in 1963.


Hindemith on the WWW
| | | | | |
| --- | --- | --- | --- | --- |
| Sites | Audio | Video | Images | MIDI |
Description
He played

He Lived in the

Twentieth Century

Germany