Xtend

His Music

Period

Country

Notes

Quotation

Dictionary

Projects

Finders
Born: 26 September 1898, New York, USA
Died: 11 July 1937, Hollywood, USA

Gershwin, George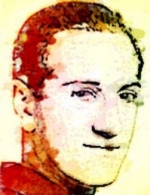 The Jewish New-Yorker

, son to a poor Russian-Jewish immigrant family, taught himself to play the piano and never learned to read notes properly. He won his publicity as the composer of popular music hits for words written by his brother, Ira Gershwin, and became rich from the royalties. Gershwin gradually integrated jazz

into art music and the first piece that was successful and fully recognized was "Rhapsody in Blue"


, orchestrated by someone else, for Gershwin did not have sufficient knowledge. He continued to receive orders and wrote "An American in Paris" and the Piano Concerto in F major.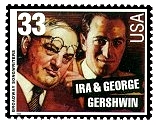 During the years that preceded his early death, he wrote the opera "Porgy and Bess", that combines black folklore and the opera style. The opera is still an enormous success and show-tunes such as "Summertime"

became masterpieces of jazz and 20th century popular music

.
Gershwin was an enthusiastic art collector and dedicated much of his time to painting.

Gershwin on the WWW
| | | | | |
| --- | --- | --- | --- | --- |
| Sites | Audio | Video | Images | MIDI |
Description
His Instrument

He Was

He Lived in the

Twentieth Century

USA