Xtend

Listen

Period

Country

Quotation

Dictionary

Projects

Finders
Born: 2 May 1660, Palermo, Italy
Died: 22 October 1725, Napoli, Italy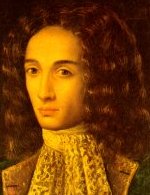 Scarlatti, Allesandro
Among the prominent opera

composers and probably the developer of 18th century Neapolitan opera. He made his principal career in Naples and is the one who introduced the "accompanied" recitative

; in this type of recitative, singers would recite their conversation, accentually and with orchestral accompaniment. Thus, the composer gained the ability to better transmit feelings, unlike the recitativo secco

, which is essentially unaccompanied and lacks a definite meter.
Scarlatti also set the aria

, the opera, as a form with a reprise in an a-b-a

structure, and therefore called it "Aria da-capo". He also turned opera overture

into a meaningful movement in the opera, rather than a mere secondary section whose purpose is to silence the audience.
Scarlatti wrote about 115 operas, including "Tigrane", most of them were lost and so are not performed nowadays.
He shaped the homophonic

style (a solo of one performer, when the others accompany), unlike polyphony

that had prevailed until then, in which all voices had an equal, independent part. He wrote about 600 chamber cantatas, that included arias in high levels of performance

.


Alessandro Scarlatti on the WWW
| | | | | |
| --- | --- | --- | --- | --- |
| Sites | Audio | Video | Images | MIDI |
Description
He Was

He Lived in the

Baroque

Italy