Xtend

Listen

Period

Country

Quotation

Dictionary

Projects

Finders
Born: 4 September 1892, Aix-en-Provence, France
Died: 22 June 1974, Genève, Switzerland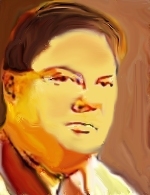 Milhaud, Darius
A Jewish French

composer who was one of the "Les Six"

, the group of composers who argued that 20th century French music was enslaved by impressionism

, and looked for other ways of expression. Milhaud is considered one of the prominent composers of 20th century music.
Milhaud was very diverse in composition techniques, and did a great deal of searching for new ways of artistic creation, from the simple, light "Applied music"

in the spirit of Hindemith

(for example, "The Music for the Family and School"), incorporating jazz

("The Creation of the World" ["La Création du Monde"] - a ballet

based on jazz characteristics) to polytonality

(composing parallel melodies with different tonics

) as in the suite for piano "Saudades do Brasil", atonality

(pieces without a key

or a tonic) and more. The "Saudades do Brasil" and other works are also a result of his 2 years stay as a secretary in a French delegation in Rio de Janeiro. There, he became acquainted with Brazilian

folk music and influenced by it

.
Milhaud wrote music on Jewish themes, too, like "Hymn to Zion - Song of Jerusalem" and "Psalms for Baritone, Orchestra and a Choir".

Milhaud on the WWW
| | | | | |
| --- | --- | --- | --- | --- |
| Sites | Audio | Video | Images | MIDI |
Description
He played

He Lived in the

Twentieth Century



In


France