Xtend

Listen

Period

Country

Notes

Quotation

Projects

Dictionary

Finders
Born: 25 October 1825, Vienna, Austria
Died: 3 June 1899, Vienna, Austria

Strauss, Johann Jr.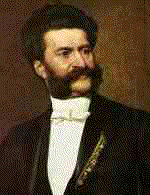 Son of a family of musicians, whose father had forbidden him to be a musician himself, but secretly learned to play the violin

and founded his own orchestra, which became a competitor to the orchestra his father managed. He was particularly famous for the splendid waltzes

he composed that suited the atmosphere of 19th century jolly Vienna

.

Although he tried to incorporate the composition techniques of Wagner

and Liszt

, and was angrily criticized for it, his beloved waltzes are considered exemple of melodic yet spiced writing, exquisitely orchestrated and with proper use of participating instruments. Prominent among them are the "Blue Danube Waltz"


("blauen Donau"), and "Tales from the Vienna Woods".
He also composed 15 operetas

, of which especially popular is "The Bat" ("Die Fledermaus"), that includes concealed criticism of Viennese society, the same one that nurtured him so much.

Strauss Jr. on the WWW
| | | | | |
| --- | --- | --- | --- | --- |
| Sites | Audio | Video | Images | MIDI |
Description
He Was

and played

He Lived in the


Romantic period

Austria
Visit the