Xtend

Listen

Period

Country

Notes

Quotation

Projects

Finders
Born: 29 May 1860, Camprodón, Spain
Died: 18 May 1909, Cambo-les-Bains, France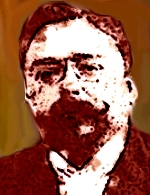 Albéniz, Isaac
Isaac Albéniz was born in Spain

. He was a child prodigy who first performed as a pianist at the age of four. As a boy, he ran away from home and traveled in South America, supporting himself by playing the piano. He studied at the Brussels Conservatory with the great Hungarian pianist and composer Franz Liszt

. Albéniz wrote more than 200 piano

works and many orchestral works and operas. As a leading national

composer, like many of the late Romantic

period's composers, he wrote many works with the influence of the Spanish folk music

.
Although he wrote some operas, he is best known for his piano music, some of which has been arranged by others for orchestra. He influenced Debussy

and Ravel

in their piano compositions. His greatest masterpiece is the "Iberia Suite"

which combines the use of Spanish folk materials with a brilliant pianistic writing.

Albeniz on the WWW
| | | | | | |
| --- | --- | --- | --- | --- | --- |
| Sites | Audio | Video | Images | MIDI | Notes |
Description
He played

He Lived in the

Romantic period


Spain


And now on the WWW



Home Page