Xpose

Mozart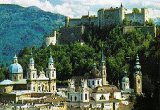 Salzburg is a city of architectural grandeur, ultimate beauty and wonderful views of nearby lush hills

. Built in 1077, the Hohensalzburg Fortress

is the largest fully preserved fortress in central Europe. Numerous homes, churches and palaces within this old city are striking examples of Baroque

architecture at its finest. Salzburg is also full of museums, quaint cafes, and magnificent gardens.

But Salzburg owes its musical importance to the fact that it was the place of Wolfgang Amadeus Mozart's

birth. On the third floor of the Hagenauer House you will see the Mozart birth house


(Getreidegasse 9) and on the former Hannibalplatz there is the Mozart museum

(Makart Square 8) which reflects his living conditions and shows his piano and an archive of his works. Mozart Square

with the Mozart monument (built in 1842) and the sounds of the world-famous Salzburg carillon, which sounds daily from the archibishop's palace

.The Salzburg Cathedral

was the religious home to the Mozart family and Wolfgang Amadeus Mozart was baptized here and wrote many of his works for the cathedral's services. This completes our journey in the genius' footsteps, but the whole city is full of his images, "Mozart" chocolates and his spirit.
St. Sebastian's church

with its Gothic style is well known for its cemetery which houses the graves of the Mozart family (although not Mozart, himself who was buried in an unknown grave in Vienna, you can find here the graves of his wife Constanze and his father, Leopold).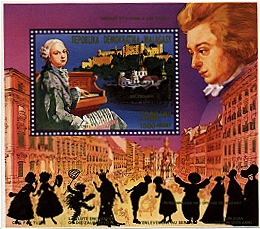 The Salzburg Festival

pays homage to the city's history in the classical music scene and has become one of the best-known musical and dramatic events in the world. From its beginning, the main focus was on Mozart's music. This annual festival of music and drama has been held in Salzburg, Austria, since 1920, for five weeks starting in late July. One of the poeple who started this festival was the composer Richard Strauss

.
You can try to enter a Mozart opera at the world-famous Marionette Theater

.
Salzburg was also the setting for the famous movie "The Sound of Music"


.